• Activities • Bingo • Fall • Glossary • new products • thanksgiving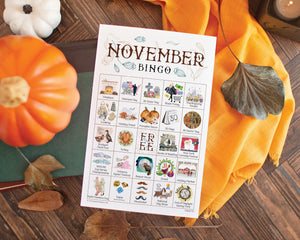 November's bingo set is now available in the shop. Click here to go to the listing. I've warmed up to November the past few years. It helps that I love my job and get to work from home. Here's the glossary so you can learn a bit about what I chose to feature in this bingo set: 30 Days - Pretty self-explanatory, but it's always a nice reminder which months have which quantity of days. All Saints' Day - November 1, but some celebrate it the first Sunday after Pentecost. In certain Christian churches, this is a day to recognize the rest of the saints who...
---
• Activities • Bingo • Fall • Games • Glossary • Halloween • new products
Here's the first of hopefully 12 monthly glossaries as a reference to the pictures included in the set. I encourage you to do your own research and read up further on the ones that interest you.