• Bingo • new products
Do you ever head to the lake? Whether for the day or an extended trip, this new bingo set celebrates some of the simple pleasures of a lake getaway. Growing up, we often went to "the beach" at nearby rivers and lakes on weekend afternoons. We also liked to visit my aunt and uncle's cabin in Lake Tahoe. Going through the artwork for this set got me nostalgic thinking about the fresh air and relaxed times I've had with loved ones. Enjoy!
---
• 4th of july • Activities • freebies • patriotic
I've just added a new type of activity to the shop, and I thought I'd offer you one to try out! Remember these games from when you were a kid? Write down as many words as you can think of that include only the letters in the key phrase. Some suggested rules and scoring are provided, but obviously you can play however you wish. :)  This is an enjoyable activity that you can hand out to kids, seniors, coworkers, friends, neighbors, and party guests. This can be played solo or competitively. Set a timer, or approach it at a leisurely pace. Download...
---
• Activities • Bingo • birthday • new products • Summer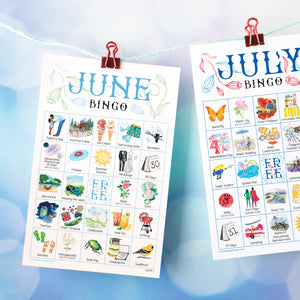 I've been working on bingo sets for the months of the year! It's a wonderful way to think about how each month is unique, fun, and memorable. So far I have May, June, and July ready, and of course I will continue on to eventually finish all 12. These make great general activities for birthdays, potlucks, picnics, and holidays.  You may also learn a thing or two about each month! Let me know if you have any questions or suggestions. 💚
---
• Activities • Games • party • Valentine's Day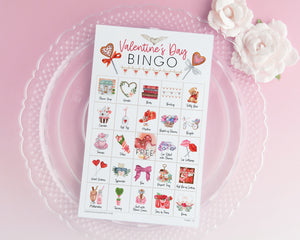 The great thing about digital downloads is that you can be a procrastinator and still bring the entertainment! If you're looking for a fun way to celebrate, here are a few suggestions that you can download immediately and print up for your needs.
---
• Galentine's Day • Gift Ideas • Valentine's Day
[This post contains affiliate links, which means I can earn a small commission if you purchase any of these items.] Galentine's Day is becoming more and more popular after the character Leslie Knope on Parks and Recreation celebrated it year after year on the show. Technically it falls on February 13th so that you can focus on Valentine's Day the following day, but it's basically just a term for treating your gal pals, whether it's the 13th or 14th. Mid-February is the perfect time of year when those in the Northern Hemisphere can use a pick-me-up during the bleak days of winter--regardless of...